Are you a practitioner, clinician or individual seeking personal growth who is searching for a modality that transcends traditional therapeutic approaches and supports patients in an organic, holistic manner? Are you someone who's tried to connect the dots about the origins of personal challenges but can't find the missing link? Join us for the 2018 Foundations of Focalizing training program and retreat where we'll be sharing Focalizing as a manner of building resilience, healing, growing and profoundly affecting the quality of the lives of both you and those you support.
Foundations of Focalizing - Summer 2018 Program
This summer, The Focalizing Institute will be presenting an in-depth certification training at The Garrison Institute on the foundations and applications of Focalizing. This deeply experiential program will introduce students to the dynamism of this human technology and how it can be applied for personal and interpersonal healing. You'll learn why Focalizing is a lifeline for individuals who have not had success with traditional modes of therapy and witness as the technology enables fundamental positive shifts in the internal and external landscape of those who use the approach. Along the way you'll deepen your ability to apply the Focalizing structure as a means to support yourself or others to find meaningful pathways towards personal growth and healing resolution.
Interested but want to try Focalizing first? Contact us here and request a intro session and one of our facilitators will respond to schedule a 30 minute intro session. You can also use this time to ask any questions you might have.
Certified Focalizers will be able to:
Lead a Focalizing session to navigate personal issues or assist others through a variety of challenges
Possess a strong understanding of the Focalizing technology including an in-depth understanding of the conditions that serve as a foundation for every session
Articulate the Focalizing process, the nature of trauma energy and the benefits of this process
Consciously witness and support the practice of Dynamic Linking (Focalizing in community)
Have the capacity to respond to over-activated or challenging experiences during a Focalizing session
Apply Focalizing to merge polarizing energies by bringing resources in that can create a new experience or release obstructive energies
Integrate this healing technology into existing personal or clinical practices and settings
Through the Focalizing process and its ability to tap into the innate healing capability of the body, Focalizers have experienced:
Our School's New Home...
Perched above the Hudson River about 50 miles north of New York City—on the east bank of the river across from West Point—the Garrison Institute is nestled in the hills of a landscape made famous in 19th century Hudson River School paintings. The building is a renovated version of a 77,000 square foot stone and brick monastery and seminary built by the Capuchin Franciscan Province of St. Mary in 1923. Since it was acquired by the Open Space Institute in 2003, The Garrison Institute has been visited by tens of thousands of people for its retreats and programs. Notably, the space has hosted performances from many musicians including Pete Seegar and Philip Glass and was visited by Dalai Lama who blessed the space soon after it reopened in 2003. Read more about the location on The Garrison Institute's website.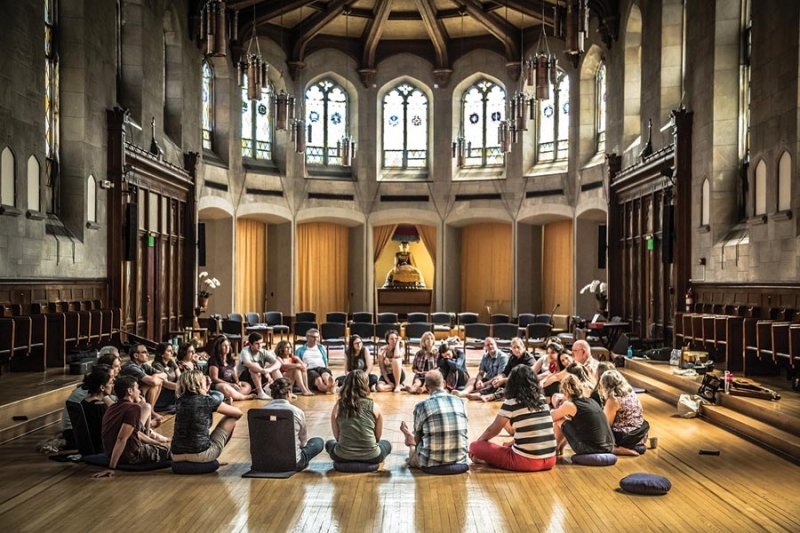 The Kitchen
The Garrison Institute's kitchen offers a variety of delicious meals with a strong emphasis on locally grown and sourced ingredients. Seasonal vegetables are grown on the grounds at the Garrison Institute garden. The kitchen offers flexibility for a number of dietary needs such as gluten free, vegetarian or vegan diets. To learn more, follow this link: The Garrison Institute: Our Famous Kitchen
Directions to the Garrison Institute
The Garrison Institute is located 50 miles north of New York City and is a convenient trip to make by car, train, bus or plane. Below is an overview of the most common methods of traveling to the Garrison. For an even more detailed travel overview, click here.
By Train from NYC: Take the Metro North Railroad to the Garrison train station via the Hudson Line. Trains normally arrive and depart approximately every hour. The Garrison Institute has a complimentary, no-reservation-required shuttle service that picks up attendees during check-in hours on Fridays (3pm – 6pm) and drops off on Sunday. The Garrison Institute is approximately one mile away from the train station and can also be walked.
By Car: To drive to the Garrison, put this address into your GPS: 955 Route 9D, Garrison, NY 10524. Then look for the Garrison Institute's 9D entrance. If you're traveling from the city, the trip is between one hour and 1.5 hours from Manhattan depending on traffic.
By Plane: Garrison is accessible via the greater New York Metropolitan area airports: LaGuardia Airport, JFK Airport and Newark International Airport as well as the local-based Stewart Airport. If traveling to JFK or Newark, travelers will want to make their way to Grand Central Station in order to get on a Metro North train to the Garrison. If landing in LaGuardia, the Harlem-125th Street Metro North station is closer and has trains that go to the Garrison train station.
Michael Picucci, Ph.D., M.A.C., S.E.P., draws on 30 years of expertise in a wide variety of healing and treatment practices, including psychology, psychotherapy, alcoholism and addictions recovery, trauma healing, sexual healing, grief counseling, Somatic Experiencing and other organic, complementary paradigms. His whole person approach and unique style has helped him foster a diverse client base that includes people of all ages, sexual orientations and identities and ethnic backgrounds.
Dr. Picucci's research and experience have been internationally recognized, his work has been published in numerous media, and his colleagues recognize him as a pioneer in intuitive healing.
The body of his work and life experience inspired him to originate Focalizing. The technology comes from many traditions of energy psychology and traditional modalities including Somatic Experiencing, Focusing, and Humanistic Psychology.
To read more about Dr. Picucci and his work, visit his website at michaelpicucci.com.
Nick has been a student of Focalizing and co-creator with Dr. Michael Picucci for over seven years. Today he has a private coaching practice and leads group workshops around New York City that meld the somatic approach of Focalizing with the family and ancestral perspectives of Family Constellations. For Nick, his entry into the healing arts started with Focalizing and it's the foundation from which he holds space for clients. Years after discovering Michael's work a mixture of intuition and serendipity moved him to train with several world renown facilitators of Systemic Family and Organizational Constellations. Along the way he has also acquired a breadth of experience and certifications in Reiki, QiGong, Mutual Awakening and other energy based modalities.
In addition to his healing practice, Nick worked in digital marketing and publishing for over nine years at various agencies and organizations. His experience inspired a particular interest in how people build authentic approaches to their work and connect to the 'why' behind work habits.
Nick's greatest strength is in the sacred space he holds for healing. Those who work with him are given the space and safety to allow the deepest aspects of their being to shine. To learn more about Nick, visit his website at nicknwerber.com.
Optional Morning Yoga
Saturday and Sunday Mornings
Jennifer McNulty will be leading yoga for those who are interested.
Jennifer is a yoga teacher and special education specialist in NYC. She is passionate about practicing and sharing mindfulness with others and leads the mindfulness initiative at her school in Brooklyn. It is her intention to make yoga enjoyable and accessible for everyone.
Jen's style gently encourages students to challenge themselves while feeling safe and supported to grow at their own unique pace. Her practice includes meditation, breathwork and mindful movement to create space for self-love, compassion and expansion. She has been practicing Focalizing for 5 years and is a board member for the Institute. Her 200 hour yoga certification is through the Breathe4Change program.
In-Person Dates
June 29th - July 1st 2018
July 20th to July 22nd 2018
October 5th - October 7th 2018
Arrival 3 - 6pm on Friday
Departure after lunch Sunday
Online Dates
Sunday July 8th 2018
Sunday August 12th 2018
Sunday September 9th 2018
From 1pm - 3pm EST
Total Program Cost (food + lodging incl.)
Payment Plans Available
Due by June 5th: $500 non-refundable deposit
Total Cost with Single Occupancy Room: $2,797
Total cost with Double Occupancy Room: $2,197
Early Bird Special - $150 Discount Until May 15th
Partial Scholarships Also Available (Inquire At Registration)
Program Requirements for Certification
To receive certification, students will be required to:
Read or listen to the audiobook version of Focalizing Source Energy: Going Within to Move Beyond (65 pages)

Attend all classes or makeup any classes in the next Foundations of Focalizing program. This includes having the ability to connect to online classes using both video and audio from a computer, tablet or smartphone.

Complete all four homework sessions that will include practicing Focalizing with fellow classmates (~1-2 hours each)
Interested but want to try Focalizing first? Contact us here and request a intro session and one of our facilitators will respond to schedule a 30 minute intro session. This is a great way to try Focalizing and askstions you might have.
Interested but want to try Focalizing first? Contact us here and request a intro session and one of our facilitators will respond to schedule a 30 minute intro session. You can also use this time to ask any questions you might have.